Funding
Initial funding for the Centre has been provided by the R. Howard Webster Foundation and the B.C. Institute against Family Violence.
R. Howard Webster Foundation
The R. Howard Webster Foundation is a family foundation established in 1967 to offer financial support to Canadian organizations involved with education, research, children, the environment and criminal justice issues. The Foundation has been notable over the years for its strong support for Canadian universities, libraries and hospitals. Its support for Boys and Girls Clubs across the country has helped many young people mature into productive adults.
The Foundation's Chair, Peter Webster, has demonstrated a long-standing personal commitment to advancing community safety. He is a past member of the Vancouver Police Board and current trustee with the Vancouver Police Foundation. His contribution to the Justice Institute of British Columbia began with his appointment to the JIBC Board of Governors from 1988 to 1994. He then joined the JIBC Foundation Board as founding Chair, assuming that role from the Foundation's inception in 1994 to 1998. He continues to sit as a Director since that time.
The R. Howard Webster Foundation's generous commitment towards establishing the JIBC Applied Research Centre for the Prevention and Reduction of Violence will further that commitment to public safety by supporting the JIBC to establish and teach best practices for front-line professionals, for program and policy development and for knowledge translation, exchange and mobilization.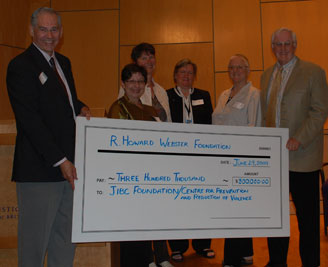 BC Institute Against Family Violence
The BC Institute Against Family Violence (BCIFV) was founded in 1989 as a private, nonprofit organization dedicated to eliminating domestic violence and promoting public awareness through education and information dissemination. For almost 20 years, it served individuals, professionals, and organizations in British Columbia, maintaining a public Resource Centre and library and publishing a variety of informational and educational resources.
The BCIFV joined with the Justice Institute of British Columbia to establish the Centre for the Prevention and Reduction of Violence. BCIFV resources and library have been transferred to CPRV which will continue to advance the BCIFV's mission of supporting, co-ordinating and initiating research and education programs that promote the elimination of violence in all families.
Although the BCIFV has ceased operation, through the work of CPRV, researchers and educators will continue to work towards achieving the BCIFV's vision of a province and a society without family violence where individuals, families and communities are caring, respectful and supportive.
Last updated February 4, 2011