JIBC and Nicola Valley Institute of Technology sign collaborative agreement
Agreement will expand opportunities for Aboriginal learners
The Justice Institute of British Columbia (JIBC) and Nicola Valley Institute of Technology (NVIT) have signed a memorandum of agreement to develop and carry out collaborative activities.
The five-year agreement, signed June 27 at NVIT's Burnaby campus, outlines two objectives:
To facilitate the block transfer of students with appropriate prerequisite qualifications from NVIT into JIBC's Law Enforcement Studies Diploma with 15 credits of advanced standing.
To form strategic alliances between JIBC and NVIT to provide support to Aboriginal learners in relation to admission requirements for JIBC programs.
"Today is a new and exciting beginning of a formal partnership between JIBC and NVIT," said JIBC President Jack McGee. "This agreement directly reflects a goal of JIBC's Strategic Plan to expand collaborative opportunities for Aboriginal learners interested in public safety careers, and create new pathways to support Aboriginal learners. We look forward to working together with NVIT on this important initiative."
President McGee, NVIT President Ken Tourand, JIBC Vice President Academic Dr. Michel Tarko, and NVIT Vice President Academic and Strategic Partnership Dr. Verna Billy-Minnabarriet participated in the signing, along with other JIBC and NVIT staff and faculty.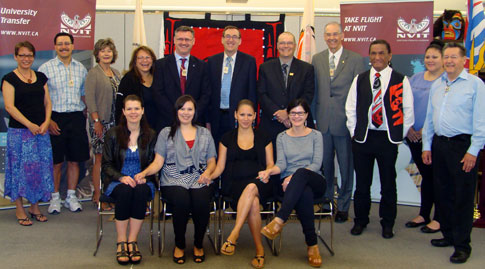 "This partnership enhances the student experience by providing further opportunities for both new and prospective learners to transfer and transition seamlessly between NVIT and JIBC within specified programs," said Dr. Verna Billy-Minnabarriet. "This collaboration is about supporting higher learning by constructing relevant services, pathways and opportunities for students wishing to attain employment within justice services. NVIT is excited about this new relationship with its urban-based partner, JIBC, and looks forward to working together to meet the needs of BC's post-secondary students studying at either of the campuses."
NVIT has a student body that represents more than 70 per cent of the Aboriginal communities across the province. NVIT invites students from around the country to further themselves with over 300 courses and programs ranging from trades training to Bachelor of Social Work. With campuses in Merritt and Vancouver, online courses and community-based deliveries throughout Canada, NVIT serves approximately 1,400 students annually.
As Canada's leading public safety educator, JIBC delivers leading edge public safety and justice education and training in BC, Canada, and internationally. About 30,000 students from over 20 countries take our programs and courses annually. JIBC deliver programs and courses at seven BC campuses and in more than 170 communities around the province, and serves more than 8,000 online/distance education students annually.
Submitted by lmunro on Wed, 2012-06-27 16:13
Last updated July 23, 2012